If the pain and stiffness of arthritis is affecting both your knees—to the point you'll need surgery soon—you may want to consider a double knee replacement, also known as a bilateral knee replacement.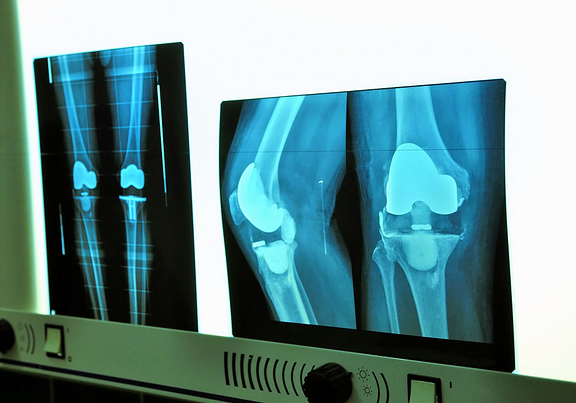 There are several advantages to having a double knee replacement, such as less time in the hospital and quicker return to mobility. See
The Pros and Cons of Double Knee Replacement
During a double knee replacement, both knee joints are replaced during one surgery. Just as with single knee replacements, double knee replacements have a good success rate. They result in a reduction in knee pain and improvement in function for almost all patients.
The advantages of double knee replacement
If both knees need to be replaced, it's pretty apparent that there are some clear advantages to doing it simultaneously:
Less time in the hospital. Although you'll need to stay at least half a day longer than if you had a single knee replacement, you'll only have to stay once.
Less time off work. The recommended time off work is the same for both a single and double knee replacement: 4 to 6 weeks.
Cheaper. Experts estimate that the savings is about 20% for a double knee replacement compared with two single knee replacements, but costs vary depending on provider and insurance.
Less physical therapy. When you can rehabilitate both knees at once, it takes less time than doing it individually.
Quicker return to mobility and physical activity. It can be frustrating to recover from a single knee replacement only to be hampered by continuing pain in the other knee.
The drawbacks and risk factors
However, it's not all "pros." There are some disadvantages and potential risks in having a double knee replacement:
Limited eligibility. Patients need to have moderate to severe knee osteoarthritis in both knees to qualify. They also should be in good physical condition and may need to be younger than a certain age, depending on the surgeon.

See Knee Osteoarthritis Symptoms

The risk for complications like infections or revision surgery are slightly higher for a double knee replacement than a single one.
More blood loss. About 40% of people who receive a double knee replacement need a blood transfusion, compared with 12% of single knee replacement patients.
More time under anesthesia because of the longer procedure. Anesthesia risks increase with the length of time it needs to be administered.
More challenging recovery process. When both knees recovering from surgery, you're a lot less able to get around and will need a lot more help. In fact, many double knee replacement patients need to spend time in a rehabilitation center after they leave the hospital, rather than going straight home.
Some surgeons also offer a staggered or staged schedule for double knee replacement, meaning that the two surgeries may be scheduled a few months or weeks apart.
Despite a few drawbacks, double knee replacement is a nice option for those with bilateral knee arthritis to have less pain and more mobility in a quicker amount of time.
If you have disabling arthritis in both knees, ask your doctor if you may be a good candidate for a double knee replacement.
See Knee Osteoarthritis Diagnosis
Learn more:
Choosing a Surgeon for Total Knee Replacement