The following is a
Sponsored Resource
. The sponsor of this content has sole editorial control.
WE WERE MADE TO MOVE™
Considering knee replacement surgery for osteoarthritis?
Here's what you should know.
Living With Knee Osteoarthritis
Osteoarthritis typically develops after years of constant motion and pressure in the joints, causing the cartilage in your joints to gradually break down. Symptoms can include knee pain, stiffness and swelling.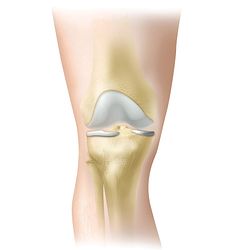 HEALTHY KNEE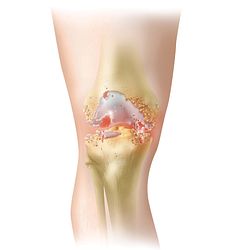 ARTHRITIC KNEE
If you are diagnosed with osteoarthritis, your doctor may recommend several treatment options.
Treating Knee Osteoarthritis Without Surgery
While knee osteoarthritis is an irreversible degenerative process, certain treatments can help manage the disease's progress and minimize your pain. If your surgery has been postponed due to Covid-19, or you're interested in non-surgical options, click the links below:
Signs It Might be Time for a Knee Replacement
Non-surgical treatments for osteoarthritis don't always alleviate the pain. Only an orthopedic surgeon can give you a correct diagnosis and help determine what treatment option is best for you, but here are a few indicators that knee replacement surgery might be for you:
Knee pain persists or gets worse after non-surgical treatments
Using medications or a cane fails to reduce your pain
You find it difficult to move around, climb stairs, and exercise
Knee pain prevents you from sleeping
Your knee feels very stiff after sitting in a car or movie theater
Knee Replacement Options
Knee replacement is more accurately described as knee "resurfacing". A common patient misconception is that the entire knee is removed. In reality, the ends of the knee joint are resurfaced with metal components, and a medical grade plastic implant is used to create the new cushion in your knee. Your own muscles and ligaments provide the strength and stability to your new knee.
The procedures listed below may not be options for your particular condition. Consult your surgeon for more information on what may work for you.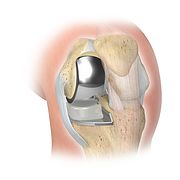 Partial knee replacement
With partial knee replacement, only the damaged portion of your knee is replaced, thus retaining all the other normal bone, cartilage, and ligaments in your knee. There are 3 types of partial knee replacements: medial (the inside of your knee – closest to the other knee), lateral (the outside of your knee), and patellofemoral (the front of your knee, often referred to as the kneecap). Of the 3, medial partial knee replacement is the most commonly performed. Not all knees with arthritis are candidates for partial knee replacement.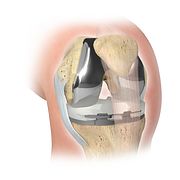 Total knee replacement
Total knee replacement may be necessary when several portions of the knee are damaged by arthritis. During a total knee replacement, the arthritic portions of the femur and tibia are removed and replaced with metal implants. Then, a medical grade plastic implant is inserted between the two that will act as cartilage.
For more information on partial knee replacement or total knee replacement, check out Knee Pain Relief – Surgical Treatment Options.
Outpatient joint replacement
Outpatient joint replacement is one of the most recent trends in joint replacement surgery. With outpatient surgery, patients are discharged the same day or within 23 hours of the surgical procedure. Outpatient joint replacement may be considered for appropriately screened patients, with relatively low health risk, and adequate social support at home to assist with postoperative recovery. Not all patients are candidates for outpatient surgery.
Click here for a free guide to outpatient joint replacement surgery.
Robot-assisted surgery
Knee replacement surgery is a mechanical procedure that requires precise implant positioning and knee alignment. Historically, this has been accomplished with traditional surgical instruments.
Computer and robot-assisted surgeries have been performed in various surgical fields through the years. In knee replacement surgery, they are used by surgeons to help them optimize implant positioning and knee alignment. Computer-assisted navigation has been used for many years. Robot-assisted surgery is a relatively new concept that helps surgeons place, align, and in some cases, assist with bone preparation during knee replacement surgery.
We Were Made to Move™
It's important that your knee implant precisely fits for your unique anatomy. That's why Zimmer Biomet created Persona® The Personalized Knee® . The Persona Knee System is designed to alleviate your pain, restore your mobility, and improve your quality of life.
The features in the Persona Knee System give your doctor the most comprehensive selection to choose from — in order to best fit you.
If you are interested in the latest in robotic assisted surgery, check out the ROSA® Knee.
What Risks Are Involved?
Major medical complications, such as heart attack or stroke, occur even less frequently. Each of the following reactions or complications can occur during and after surgery and may require medical attention (such as further surgery and/or implant removal):
Blood clots
Bleeding
Slow wound healing
Infection
Allergic reaction to the knee implant components
Blood vessel damage
Nerve damage
Stiffness
Poor range of motion
Swelling and joint pain
Knee instability and/or dislocation
Loosening or fracture of the knee implant components
Bone fracture or break during surgery
Leg length discrepancy