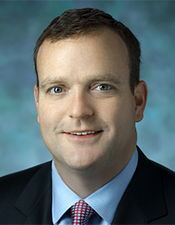 Andrew Wolff, MD
Orthopedic Surgeon
Dr. Andrew Wolff is an orthopedic surgeon at Washington Orthopaedics & Sports Medicine. He specializes in hip preservation and sports medicine and has been practicing for more than 10 years.
Dr. Wolff is a frequent lecturer and instructor on hip surgery techniques. He has contributed several chapters to published textbooks on sports medicine and given dozens of presentations at national and international meetings of medical societies. In addition, he serves as an Editorial Reviewer for the Journal of the American Academy of Orthopaedic Surgeons and the American Journal of Sports Medicine.
As an active leader in the field of orthopedic surgery, Dr. Wolff has served as the Washington, DC, Regional Representative for the Medicare Carrier Advisory Committee. He is also a past President of the Washington Orthopaedic Society.
Select Professional Memberships and Achievements
Member, International Society of Hip Arthroscopy
Member, American Academy of Orthopaedic Surgeons
Member, Arthroscopy Association of North America
Member, American Orthopaedic Society for Sports Medicine
Past President, Washington Orthopaedic Society
Co-Chair of 2012 Meeting, Virginia Orthopaedic Society
Board Certification
American Board of Orthopaedic Surgery
Education
BA – Amherst College
MD – Washington University in St. Louis
Internship – General Surgery and Orthopaedic Surgery, Yale-New Haven Hospital
Residency – Orthopaedic Surgery, Yale-New Haven Hospital
Fellowship – Sports Medicine and Hip, Shoulder and Knee Surgery, Steadman Hawkins Clinic, Vail, CO
Clinic Information
Washington Orthopaedics & Sports Medicine
2021 K Street, NW
Washington, DC 20006
Author profile last updated