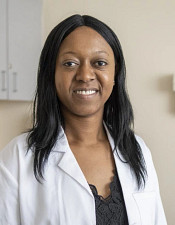 Nadine N. Mbuyi, MD, RhMSUS
Rheumatologist
Dr. Nadine Mbuyi is a board-certified rheumatologist and internal medicine physician. She is also an assistant professor at the George Washington University School of Medicine. She specializes in diagnosing and treating rheumatic diseases, with a particular interest in gout, CPPD disease (pseudogout), lupus, rheumatoid arthritis, osteoarthritis, and seronegative spondyloarthropathies.
Dr. Mbuyi's extensive training includes a residency in internal medicine at the Boston University School of Medicine's Roger Williams Medical Center and a fellowship in rheumatology at Brown University's Rhode Island Hospital.
Dr. Mbuyi is an expert in diagnosing and monitoring rheumatology patients using ultrasound. She has completed the Ultrasound School of North American Rheumatologists training program and is certified in musculoskeletal ultrasound by the American College of Rheumatology.
Dr. Mbuyi is fluent in English, French, Spanish, and Swahili.
Select Professional Memberships and Achievements
American College of Rheumatology
Ultrasound School of North American Rheumatologists (USSONAR) training
Musculoskeletal Ultrasound Certification in Rheumatology (RhMSUS), American College of Rheumatology
Essentials of Global Health certification, Coursera
Board Certification
American Board of Internal Medicine, certification in Rheumatology
American Board of Internal Medicine, certification in Internal Medicine
Education
BS – University of Toronto, Toronto, ON, Canada (with Distinction)
MD – Saint George's University School of Medicine, Grenada, West Indies (Cum Laude)
Residency – Roger Williams Medical Center, Boston University School of Medicine
Fellowship – Rheumatology Fellowship, Brown University, Rhode Island Hospital
Clinic Information
George Washington University Medical Faculty Associates
2300 M St. NW
Washington, DC 20037
Author profile last updated