Thinking about getting a hip replacement, but worried about the cost? Hip replacement surgery, anesthesia, and a 4-day hospital stay are estimated to cost about $22,500 and can be as much as $126,000.1,2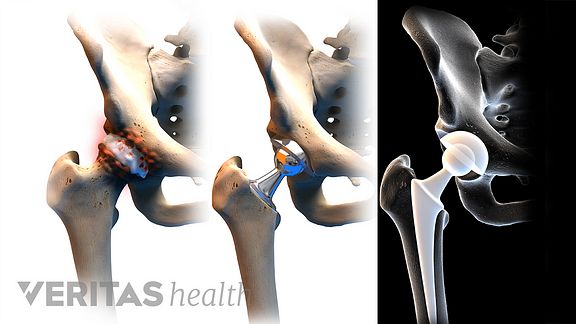 Save
Exact figures can vary widely depending on the services received, the region, and the hospital. Some or all of the cost for total hip replacement may be covered by insurance or Medicare.
Though hip replacement has a substantial price tag, it is considered a cost-effective procedure.

Hip Replacement Video
A 2004 study estimates that patients living with osteoarthritis spend $5,431 (in 2014 dollars) a year on direct medical costs, such as over-the-counter and prescription drugs, doctor visits, and medical devices.3,4 Lost wages and leisure time for non-paid caregivers can result in additional indirect costs.
Additionally, hip replacement surgery enables the typical patient to live a better, more productive life. For example, a person who was forced to stop working due to hip arthritis may be able to return to work. Similarly, a non-paid caregiver may have more free time for work or leisure.
If you are deciding whether or not to have hip replacement surgery, take into account the direct and indirect financial costs along with quality of life issues.
References
Healthcare Blue Book. Total Hip Replacement. Health Care Blue Book. healthcarebluebook.com. Accessed October 20, 2012.
Tanner, Lindsay. Need surgery? Good luck getting hospital cost info. Associated Press. February 11, 2013. news.yahoo.com. Accessed February 17, 2013.
Maetzel A, Li LC, Pencharz J, Tomlinson G, Bombardier C; Community Hypertension and Arthritis Project Study Team. The economic burden associated with osteoarthritis, rheumatoid arthritis, and hypertension: a comparative study. Ann Rheum Dis. 2004 Apr;63(4):395-401. PubMed PMID: 15020333; PubMed Central PMCID: PMC1754963.
United States Department of Labor Bureau of Labor Statistics. Databases, Tables & Calculators by Subject: CPI Calculator. www.bls.gov. Accessed October 20, 2012.