PRP solutions can vary because they are made from patients' blood, and each patient's blood is a little different. In addition, different physicians have different approaches for formulating and preparing a PRP solution for injection. As of the date of this article, there are no consistent guidelines for use of this injection to treat osteoarthritis.
The following explains what is currently known about how PRP solution is made and components of the formula.
How Is Platelet-Rich Plasma Made?
The most common way to prepare PRP involves centrifuging a patient's blood sample. A vial of blood is placed in a centrifuge, where it is spun at intensely high speeds. The spinning causes the blood to separate into layers:
Red blood cells, approximately 45% of blood, are forced to the bottom of the vial.
White blood cells and platelets form a thin middle layer, called a buffy coat, which comprises less than 1% of the centrifuged blood.
"Platelet-poor" plasma, or plasma with a low concentration of platelets, makes up the remaining top layer, about 55% of the centrifuged blood sample.
Once the centrifuge process is complete the doctor or medical technician will remove the vial from the centrifuge and prepare the PRP solution for injection.
Centrifugation speed and time can vary. Differences in centrifugation speed and time affect the composition of PRP. There is no clear consensus on what centrifugation process produces the best results for treating osteoarthritis.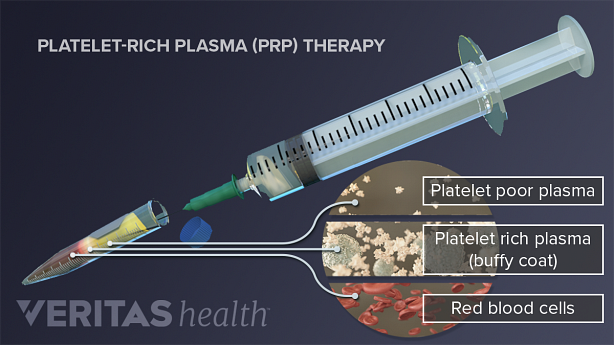 What Is in a Platelet-Rich Plasma Injection?
All PRP injections are not the same. The exact make-up of platelet-rich plasma depends on several variables, including the concentration of platelets, the concentration of white blood cells, and the use of additives.
Concentration of platelets
Normal blood has 150,000 to 450,000 platelets per microliter (μL), and the concentration of platelets in platelet-rich plasma can vary from 2.5 to 9 times that. 1 ECRI Institute. AHRQ Healthcare Horizon Scanning System Potential High Impact Interventions: Priority Area 01: Arthritis and Nontraumatic Joint Disease. (Prepared by ECRI Institute under Contract No. HHSA290201000006C.) Rockville, MD: Agency for Healthcare Research and Quality. June 2013. effectivehealthcare.ahrq.gov. Concentration levels depend on the individual's blood, how much blood was drawn, the centrifuge process (e.g., rotation speed and duration), and other clinical preparation methods.
While it may seem logical that plasma with the highest possible platelet concentration will get better results than plasma with a lower platelet concentration, that is not necessarily the case. One lab study suggested that plasma with concentrations 2.5 times that of normal blood was ideal, and higher concentrations might actually limit new cell growth. 2 Graziani F, Ivanovski S, Cei S, Ducci F, Tonetti M, Gabriele M. The in vitro effect of different PRP concentrations on osteoblasts and fibroblasts. Clin Oral Implants Res. 2006 Apr;17(2):212-9. PubMed PMID: 16584418. More research is needed in this area.
White blood cell count
The immune system depends on white blood cells to fight infection, but the cells' role in PRP therapy is unclear. Some experts suspect that white blood cells inhibit tissues' ability to heal, perhaps promoting inflammation, scar tissue, and damage to nearby tissues.
3
Taralyn M. McCarrel, Tom Minas, Lisa A. Fortier; Optimization of Leukocyte Concentration in Platelet-Rich Plasma for the Treatment of Tendinopathy. The Journal of Bone & Joint Surgery. 2012 Oct;94(19):e143 1-8.
Other experts think that, while white blood cells may not aid tissue healing, they have no negative effects, or may have beneficial effects.
See Stem Cell Therapy for Arthritis
As with the concentration of platelets, the concentration of white blood cells is determined by an individual's blood as well as clinical preparation methods.
Additives
Some doctors mix additives into the platelet-rich plasma. These additives, called thrombin and calcium chloride, artificially activate the platelets, stimulate clotting, and may enhance platelet-rich plasma's regenerative properties.
In This Article:
PRP Injection Preparation and Composition
Future research may show that the preparation and composition of platelet-rich plasma should be tailored for specific medical conditions. For example, one "recipe" may be best suited for treating osteoarthritis while another is optimal for treating tendonitis.
Until guidelines are established, variations in PRP preparation are up to the individual doctor.
Classifying PRP formulas
Because the preparation and ingredients of PRP injections are so variable, it is difficult to evaluate PRP's efficacy. To that end, some scientists have called for a classification system to distinguish between various formulations of platelet-rich plasma. 4 Dohan Ehrenfest DM, Bielecki T, Mishra A, Borzini P, Inchingolo F, Sammartino G, Rasmusson L, Evert PA. In search of a consensus terminology in the field of platelet concentrates for surgical use: platelet-rich plasma (PRP), platelet-rich fibrin (PRF), fibrin gel polymerization and leukocytes. Curr Pharm Biotechnol. 2012 Jun;13(7):1131-7. Review. PubMed PMID: 21740379. Such a system could help researchers figure out whether these differences matter and, if so, what preparation and formulation of platelet-rich plasma works best.