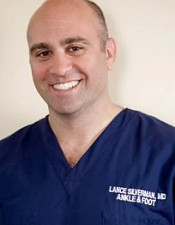 Lance Silverman, MD
Orthopedic Surgeon
Dr. Lance Silverman is a board-certified orthopedic surgeon in his own private practice, Silverman Ankle & Foot in Minnesota. He specializes in treating foot and ankle conditions, including performing surgeries ranging from minimally invasive bunion repair to ankle joint replacement.
Dr. Silverman's extensive training includes a four-year fellowship at the University of Pittsburgh Medical Center's Department of Foot and Ankle Surgery, where he trained with expert Stephen F. Conti, MD. Prior to his fellowship, Dr. Silverman held an internship and residency at the Department of Orthopaedic Surgery at the Henry Ford Health System in Detroit.
Dr. Silverman helps lead the Minnesota branch of Our Hearts to Your Soles, a national nonprofit organization that provides people in need with free medical foot screening examinations and shoes. He is also a past member of the American Academy of Orthopaedic Surgeons (AAOS) Communications Cabinet and Communications Committee.
Select Professional Memberships and Achievements
Fellow, American Academy of Orthopedic Surgeons (AAOS)
American Orthopaedic Foot and Ankle Society
Minnesota Orthopaedic Society
Board Certification
American Board of Orthopaedic Surgery
Education
BS – Biology, University of Illinois at Urbana-Champaign (Phi Beta Kappa)
MD – Baylor College of Medicine, Houston, TX
Internship – Department of Orthopaedic Surgery, Henry Ford Health System, Detroit, MI
Residency – Department of Orthopaedic Surgery, Henry Ford Health System, Detroit, MI
Fellowship – Department of Foot and Ankle Surgery, University of Pittsburgh Medical Center
Clinic Information
Silverman Ankle & Foot
6600 France Ave South, Suite 605
Edina, MN 55435
Articles Written by this Author
Author profile last updated