Patients are encouraged to begin ambulation the same day as their knee replacement surgery, with the aid of a walker or other orthopedic device. A patient typically stays in the hospital for 1 to 2 days, and longer if needed. Some may be able to go home the same day of their surgery if their medical team feels it is safe to do so. Patients who require extra attention or do not have home support may be transferred from the hospital to a rehabilitation center, but every effort is made to help the patient return to their home environment with additional support.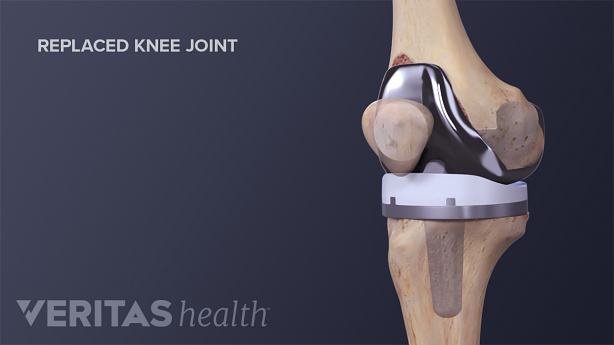 Physical Therapy After Knee Replacement Surgery
Outpatient physical therapy is typically prescribed after discharge and will usually begin within a week of surgery. A physical therapist will teach the patient:
Knee strengthening exercises
Knee exercises to encourage range of motion and reduce scar tissue
How to use assistive walking devices, such as a walker and cane
See Knee Replacement Surgery Rehabilitation Exercises
By gradually building strength and flexibility, the patient eventually can walk unaided.
Timeline for Knee Replacement Surgery Recovery
Most patients are able to care for themselves and resume normal daily activities within 6 weeks and drive within 3 to 6 weeks. 1 Knee Replacement. Mayo Clinic. http://www.mayoclinic.com. Updated December 29, 2017. Accessed July 10, 2018. It may take 4 to 6 months or up to an entire year to fully recover and realize total benefits of knee replacement surgery. 2 Knee Joint Replacement. Medline Plus, National Institutes of Health. http://www.nlm.nih.gov. Updated September 22, 2011. Accessed July 19, 2018.
In This Article:
Living with a Knee Replacement
Total knee replacement may greatly improve function, but most patients will not be able to do more than they did before the onset of arthritis.
A replacement knee may feel different than a natural knee. One small study 3 Loth FL, Liebensteiner MC, Giesinger JM, Giesinger K, Bliem HR, Holzner B. What makes patients aware of their artificial knee joint?. BMC Musculoskelet Disord. 2018;19(1):5. found that most people report being aware of their new knees even 12 months after surgery. Their awareness was most notable when climbing stairs, kneeling, or rising from a chair. About half of the people in the study also reported symptoms such as knee stiffness (the most common), swelling, "crackling," or numbness.
These symptoms can exist even though overall knee function is improved and knee pain is decreased. These symptoms do not mean the knee replacement surgery was not successful or that patients regretted having the surgery.
How Long Does A Knee Replacement Last?
About 90% of first-time knee replacements last at least 15 years, 4 Total Knee Replacement. American Academy of Orthopaedic Surgeons. http://orthoinfo.aaos.org. Last reviewed August 2015. Accessed July 2018. and many last at least 20 years. 5 Mihalko, WM. Arthroplasty of the Knee. In: Azar FM, Beaty JH, Canale ST, eds. Campbell's Operative Orthopaedics, 13th ed. Philidelphia, PA. Elsevier. 2017:396-468.
Patients can extend the life of their knee replacements by complying with their physical therapy routines and avoiding high-impact activities, such as jumping or jogging. High impact activities cause friction between the man-made components of the replacement knee, causing wear and tear.
Revision Knee Replacement Surgery
If the initial knee replacement components need to be replaced for any reason, a second surgery called a revision total knee replacement may be needed. Wear-and-tear on components, component loosening, infection, and knee joint instability are the most common possible causes for needing revision surgery. Other reasons include knee stiffness and bone fractures.
Patients should talk to their doctors about when is the best time to schedule knee replacement surgery.