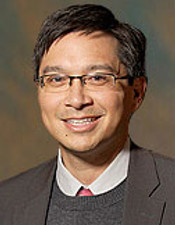 Erik Hansen, MD
Orthopedic Surgeon
Dr. Erik Hansen is an orthopedic surgeon and Section Chief in the Arthroplasty Division at the UCSF Medical Center, where he specializes in joint, hip, and knee surgery.
Dr. Hansen serves as Associate Professor of Clinical Orthopaedic Surgery as well as Clinical Fellowship Director for the University of California, San Francisco School of Medicine.
He is also the UCSF lead investigator on clinical trials focused on improving the success of revision joint replacement surgery. His research has been published in numerous peer-reviewed journals, such as the Journal of Arthroplasty and the Journal of Bone and Joint Surgery.
Select Professional Memberships and Achievements
Member, American Academy of Orthopaedic Surgeons
Member, American Association of Hip and Knee Surgeons
Winner, James A. Rand Young Investigator Award
Winner, Mark Coventry Award
Board Certification
American Board of Orthopaedic Surgery
Education
BA – Human Biology, Stanford University
MD – University of California, San Francisco School of Medicine
Residency – Orthopaedic Surgery, UCSF Medical Center
Fellowship – Adult Reconstructive Surgery, Rothman Institute, Thomas Jefferson University
Clinic Information
The Arthritis And Joint Replacement Center At UCSF Medical Center
1500 Owens Street
San Francisco, CA 94158
Author profile last updated